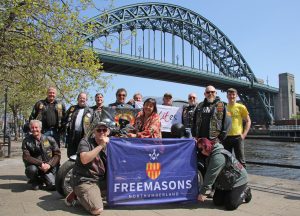 Lifelites empowers 10,000 children and young people in hospices with life-limiting, life-threatening illnesses and disabling conditions by providing them with opportunities to benefit from the power of assistive and inclusive technologies to learn, to be creative, to communicate and to take control. There is a Lifelites project in every baby and children's hospice across the British Isles. The hospices do not pay a penny towards their Lifelites project and all of Lifelites' work is funded by donations: the equipment, ongoing technical support and training at each hospice costs Lifelites around £50,000 over four years.
Charity chief executive Simone Enefer-Doy recently made a pit stop at the Tyne Bridge as part of an epic two week, 3,000 mile road trip with a difference in a bid to raise money for the little-known children's charity Lifelites.
The challenge – dubbed a Lift for Lifelites – asked volunteers for lifts to a landmark in every county in England and Wales, taking in nearly 50 en route in a variety of weird and wonderful vehicles. Simone started from the charity's small office in London on Friday 10 May, and so far she's travelled in a Tuk Tuk, a steam train and a Ferrari to landmarks such as Bleinheim Palace, Goodwood and the National Space Centre.
For their visit to Newcastle they stopped at the iconic Tyne Bridge escorted by motorcyclists from the Northumberland chapter of the Widows Sons Masonic Bikers Association, who also donated to the charity. Simone said: "Northumberland Freemasons and Widows Sons are dedicated supporters of Lifelites, and we're so grateful that they volunteered their time and vehicles to help us complete this challenge.
"We have been absolutely blown away by the response we've had from volunteers all over the country and can't thank people enough. The money they've helped us to raise will be life-changing for the life-limited and disabled children that we support in their area."
All the money raised will go towards Lifelites work donating and maintaining specialist technology to give children in hospices the opportunity to play, be creative, control something for themselves and communicate, for as long as it is possible. They do this for the 10,000 children and young people in every children's hospice across the British Isles and are currently celebrating their 20th year of doing this.
Simone said: "We are a very small, but very hard working charity and are determined to do all that we can to impact the lives of children who don't have the same opportunities that we do due to the confines of their condition. Every moment is precious for these children and their families, and we want to make sure they can make the most of every second. We can only do this thanks to the generosity of our supporters, like Northumberland Freemasons."
Past President of the Northumberland Widows Sons Masonic Bikers Association, Mike Ewart from Wylam said: "We were delighted to show Simone the generosity of the Northumberland Freemasons and to let her have a ride on a very special Harley Davidson trike. I think she really enjoyed both the visit and the ride."
Simone then travelled along the Tyne Valley to meet more Freemasons in Cumbria.
If you'd like to find out more about Lifelites or to make a donation, please visit their website: www.lifelites.org